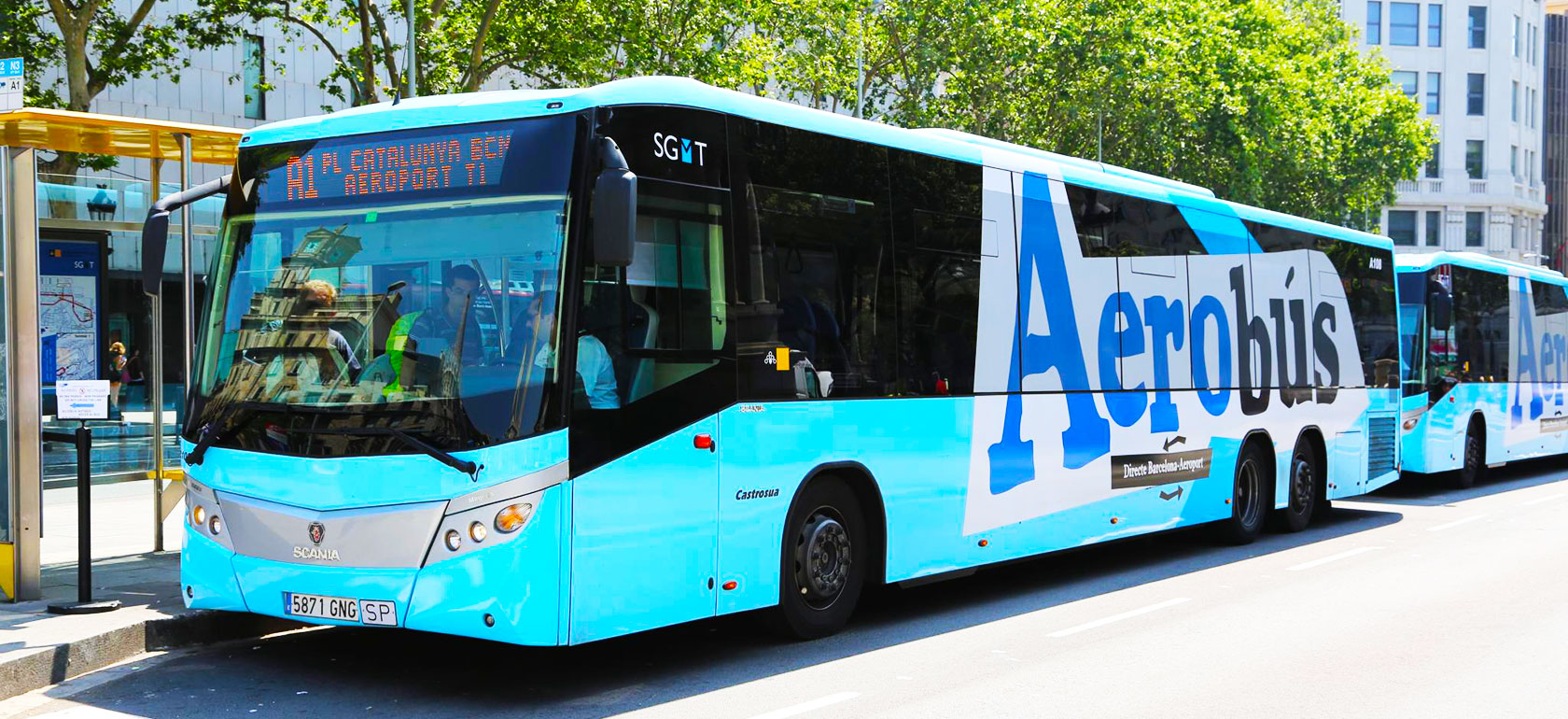 AEROBÚS Barcelona Airport Transfer
To product
Return Airport Transfer from Barcelona El Prat to Barcelona City Centre
AEROBÚS is the official shuttle bus service that connects the airport BCN-El Prat and the centre of Barcelona every 5 minutes, every day of the year, in approximately 35 minutes.
The bus connects the city centre with both Terminal 1 and Terminal 2 of the airport. Passengers can travel from the airport to Plaza Catalunya in only three stops in a fast, comfortable and economical way. The other stops are at the most important points of the city: Sepúlveda-Urgell, Plaza Espanya, Gran Vía-Urgell, and Plaza Universitat.
Additional services:
The buses are adapted for persons with reduced mobility (PRM).
They have luggage racks
Free Wifi and USB chargers on board.
Video Surveillance Systems.
During the journey the passengers can enjoy the TV channel with practical information about Barcelona.
It is recommended to buy your tickets in advance. You can choose if you want to have a one way or two way ticket.

Please note: The tickets are valid for one year after the date of purchase. The return ticket is valid within 15 days after the outbound journey.

Exchange conditions: No exchange possible.

Timetables:
LINE A1 - TERMINAL 1
| | |
| --- | --- |
| Pl. Catalunya (Barcelona) - Terminal T1 (Airport BCN) | Terminal T1 (Airport BCN) - Pl. Catalunya (Barcelona) |
| From 05:00 h to 06:40 h every 10 min | From 05:35 h to 07:20 h every 10 min |
| From 06:50 h to 21:45 h every 5 min | From 07:30 h to 22:20 h every 5 min |
| From 21:50 h to 00:30 h every 10 min | From 22:25 h to 01:05 h every 10 min |
LINE A2 - TERMINAL 2
| | |
| --- | --- |
| Pl. Catalunya (Barcelona) - Terminal T2 (Airport BCN) | Terminal T2 (Airport BCN) - Pl. Catalunya (Barcelona) |
| From 05:30 h to 06:50 h every 20 min | From 06:00 h to 06:40 h every 20 min |
| From 07:05 h to 22:25 h every 10 min | From 07:00 h to 23:00 h every 10 min |
| From 22:40 h to 00:30 h every 20 min | From 23:10 h to 01:00 h every 20 min |